Our Staff
passionate about providing quality veterinary care
All professionals at Companion Animal Hospital maintain the highest levels of accreditation and pursue ongoing education to stay abreast of the latest trends in the medical field. Learn more about our caring staff below.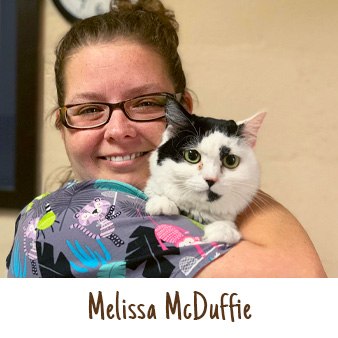 Melissa McDuffie, Veterinary Technician
Melissa is a Veterinary Technician at Companion Animal Hospital who's responsible for assisting doctors with appointments and testing. Working with the team since August 2017, the best part about Melissa's job is meeting our clients and pets. "It feels like family at this hospital," she says. "We treat pets and clients like family. Dr. Zalud provides tons of learning opportunities." At home, Melissa has two five-year-old cats named Jack and Lily. In her free time she like to cook and spend time with her family, friends and pets.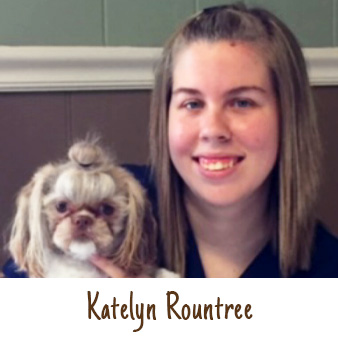 Katelyn Rountree, Technician
Katelyn Rountree is one of our amazing Technicians! Katelyn previously worked as a Kennel Assistant at Pet Paradise for 2 years before she decided to join our team. Katelyn is responsible for blood draws, catheter placement, radiology, lab work, pharmacy and ordering. We are so lucky to have such a compassionate and hard-working person like Katelyn on our staff. Katelyn has an Associate's degree from Florida State College at Jacksonville, and she plans to attend UNF in the fall of 2021 to get a Bachelor's degree in Coastal Marine Biology. She has three pets of her own: a 3 year old Shih-tzu named Suzie, a 5 year old Yorkie named Lily, and a 7 year old Yorkie named Gizmo. She also loves to visit Disney World in her free time. We are so happy to have Katelyn as part of the Companion Animal Hospital family!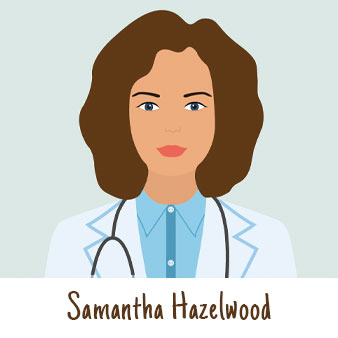 Samantha Hazelwood, Veterinary Assistant
Working part-time at Companion Animal Hospital since August of 2021, Samantha is a dependable and eager to learn member of the team as she cleans, restrains pets, bathes, nail trims, and brushes dogs. Her favorite part of the job is discovering all the animals' personalities and their favorite spots to be scratched. She enjoys working at the hospital because everyone loves what they do and puts everything they have into providing the best services for clients and their animals. Samantha has three dogs of her own, and when she's not working or being with friends and family she loves reading, art, and SFX makeup.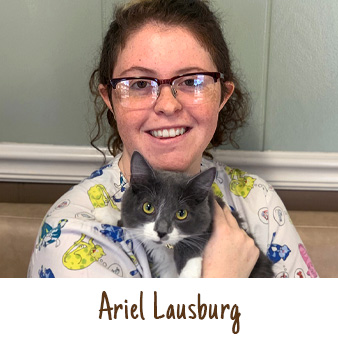 Ariel Lausburg, Kennel Assistant / Veterinary Technician
Working at Companion Animal Hospital since April 2019, Ariel holds dual roles as a Kennel Assistant and Veterinary Technician. Her job duties include holding animals for appointments, grooming, and bathing animals. One of the best parts about Ariel's job is working alongside our friendly team and seeing all the different pets that come in. At home, Ariel has four cats; Blanca, Alex, Pinochet, and Keanu. She also has two chinchillas named Mochi and Taro. When she's not working or at school, some of her hobbies include art, video games, reading, and baking cookies.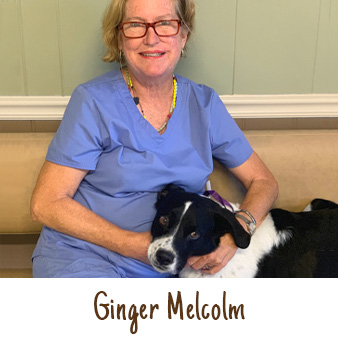 Ginger Melcolm, Kennel Assistant
Ginger is a Kennel Assistant and has been working at Companion Animal Hospital since 2013. Her daily tasks include walking, feeding, and bathing the animals. She's also responsible for opening and closing the hospital. "We give the best patient care ever. The doctors and front office are extremely in touch, as are the techs," says Ginger. "It is gratifying work." At home, Ginger has a nine-year-old cat named Lola. During her free time, she likes to work on home remodeling and spending time with friends and her granddaughter. She also enjoys reading and taking short trips.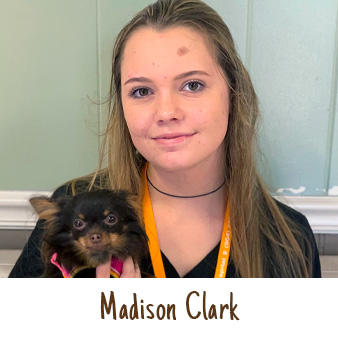 Madison Clark, Kennel Tech
Madison has been a part-time kennel tech with Companion Animal Hospital since June of 2019. Known for her sense of humor and fashion, she grooms pets, assists the vet, maintains a clean environment, ear cytology, fecal flotations/readings, and running bloodwork. Madison loves working at the hospital because she likes her coworkers and clients. She has one boxer named Oliver and six cats. When she's not working, she loves yoga, painting, working out, and watching movies.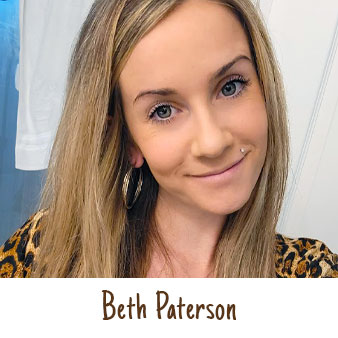 Beth Paterson, Client Care Coordinator
Working full-time with Companion Animal Hospital since 2020, Beth schedules appointments, keeps track of inventory, answers phones, updates the hospital's social media channels, and provides exceptional customer care. Beth has an Associate Degree in Business as well as six years of previous surgical tech and veterinary technician experience. She also rounds out her knowledge as a certified personal trainer and cosmetologist. Beth is married with one dog, two cats, two fish, and a baby girl on the way!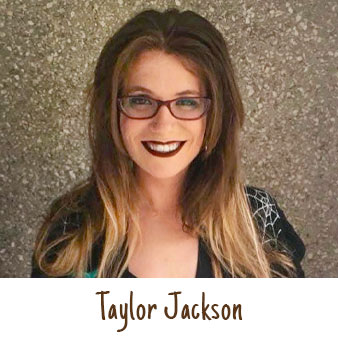 Taylor Jackson, Receptionist
Full-time receptionist Taylor Jackson is responsible for answering phones, scheduling appointments, helping with client and doctor communication, and holding kittens. She makes sure that clients get the care they need and deserve in a timely fashion, especially the sick ones. She is known for her optimism and efficiency! Taylor joined the Companion Animal Hospital team in September of 2020 and has four years of experience working in the veterinary care field. She has previously worked as a Receptionist at another hospital in the area where she helped with cat grooming in addition to her job responsibilities. At home, Taylor has five cats of her very own. Bizkit is a 6-year-old black DSH, George is a 5-year-old white DSH, Casey Bean is a 4-year-old Grey DMH, Charlie is a 13-year-old orange DSH, and Wazowski is a 3-year-old Cream DSH. Taylor loves working at Companion Animal Hospital because the environment is so family friendly! In her free time, Taylor enjoys looking for shark teeth, going to rock shows, playing with her nintendo switch, and watching movies with her cats. Recently, drive-in movies have been her go-to passtime!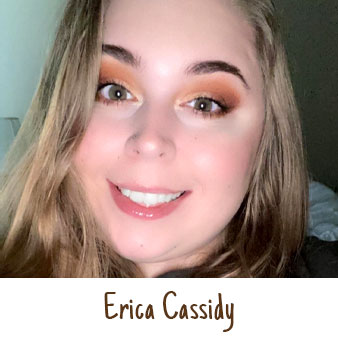 Erica Cassidy, Receptionist
Since January of 2022, Erica has been a full-time receptionist with Companion Animal Hospital. Through her personable and welcoming demeanor, she helps clients feel at ease as she schedules appointments, answers phones, and provides exceptional customer service. Her favorite part of the job is connecting with clients.