Our Staff
passionate about providing quality veterinary care
All professionals at Companion Animal Hospital maintain the highest levels of accreditation and pursue ongoing education to stay abreast of the latest trends in the medical field. Learn more about our caring staff below.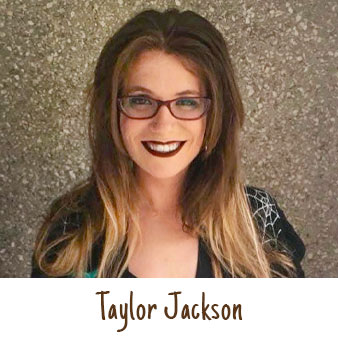 Taylor Jackson, Receptionist
Full-time receptionist Taylor Jackson is responsible for answering phones, scheduling appointments, helping with client and doctor communication, and holding kittens. She makes sure that clients get the care they need and deserve in a timely fashion, especially the sick ones. She is known for her optimism and efficiency! Taylor joined the Companion Animal Hospital team in September of 2020 and has four years of experience working in the veterinary care field. She has previously worked as a Receptionist at another hospital in the area where she helped with cat grooming in addition to her job responsibilities. At home, Taylor has five cats of her very own. Bizkit is a 6-year-old black DSH, George is a 5-year-old white DSH, Casey Bean is a 4-year-old Grey DMH, Charlie is a 13-year-old orange DSH, and Wazowski is a 3-year-old Cream DSH. Taylor loves working at Companion Animal Hospital because the environment is so family friendly! In her free time, Taylor enjoys looking for shark teeth, going to rock shows, playing with her nintendo switch, and watching movies with her cats. Recently, drive-in movies have been her go-to passtime!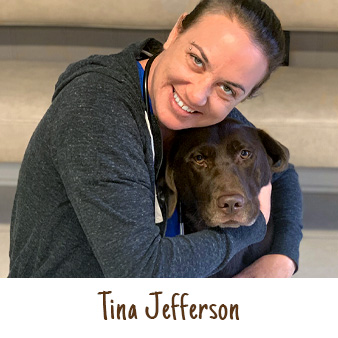 Tina Jefferson, Veterinary Technician
Tina is a full-time Veterinary Technician here at our office. She is responsible for admitting and monitoring patients, drawing blood, placing IVs, and looking at samples under the microscope. Tina's extroverted personality and extensive veterinary knowledge is an essential part of our team! Before joining Companion Animal Hospital, Tina worked for 13 years in various areas of veterinary care as a Kennel Attendant and Veterinary Technician. We are able to provide exceptional care to our patients due to the hard work and talent of employees like Tina! In her free time, Tina loves to spend time outdoors with her kids, bake, and swim. She also has some pets of her own including an American Bulldog named Cap-10, a Blue Pit named Shelby, a Maine Coon named Schmeow, and a Domestic Shorthair named Lil Man. We are so happy to have Tina as part of the Companion Animal Hospital Family!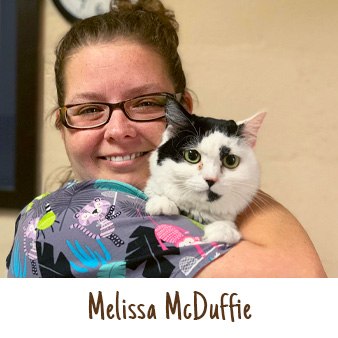 Melissa McDuffie, Veterinary Technician
Melissa is a Veterinary Technician at Companion Animal Hospital who's responsible for assisting doctors with appointments and testing. Working with the team since August 2017, the best part about Melissa's job is meeting our clients and pets. "It feels like family at this hospital," she says. "We treat pets and clients like family. Dr. Zalud provides tons of learning opportunities." At home, Melissa has two five-year-old cats named Jack and Lily. In her free time she like to cook and spend time with her family, friends and pets.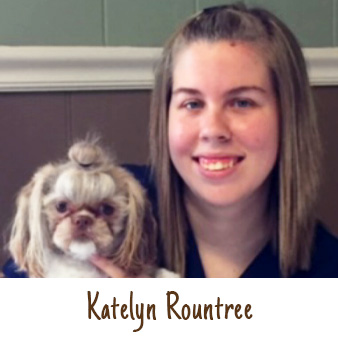 Katelyn Rountree, Technician
Katelyn Rountree is one of our amazing Technicians! Katelyn previously worked as a Kennel Assistant at Pet Paradise for 2 years before she decided to join our team. Katelyn is responsible for blood draws, catheter placement, radiology, lab work, pharmacy and ordering. We are so lucky to have such a compassionate and hard-working person like Katelyn on our staff. Katelyn has an Associate's degree from Florida State College at Jacksonville, and she plans to attend UNF in the fall of 2021 to get a Bachelor's degree in Coastal Marine Biology. She has three pets of her own: a 3 year old Shih-tzu named Suzie, a 5 year old Yorkie named Lily, and a 7 year old Yorkie named Gizmo. She also loves to visit Disney World in her free time. We are so happy to have Katelyn as part of the Companion Animal Hospital family!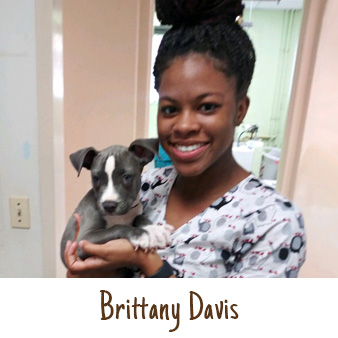 Brittany Davis, Veterinary Assistant
Brittany Davis joined our team as a Veterinary Assistant in May of 2020. She has a Bachelor of Science in Animal Science from Tuskegee University and plans to graduate from their school of Veterinary Medicine in 2025. During her undergraduate degree, Brittany interned at the Wildlife Coalition and she has previously volunteered at various humane societies since she was 15 years old.
As a Veterinary Assistant, Brittany is responsible for restraining, lab work, baths, nail trims, vitals, hospital cleanliness, providing comfort for patients, helping wherever she can, and sneaking treats to Nola! Brittany loves watching the animals heal and providing excellent care to all our wonderful patients. We appreciate her open-minded attitude and her willingness to work with difficult patients.
Brittany has several pets of her very own. Kyle is an 8-year-old Shih-Tzu, Bella is a 2-year-old Pitbull, Kynzo is a 2-year-old Dutch rabbit, and Kyp is a 6 month old betta fish. She loves teaching Bella tricks like sit, stay, paw, roll over, go to bed, go to room, come, and she is currently teaching touch! Brittany loves working at Companion Animal Hospital because it gives her the opportunity to treat a variety of dogs and cat breeds. During her free time, Brittany enjoys printmaking, painting, baking, watching Netflix and Hulu, doing arts & crafts, making resin jewelry, and crocheting.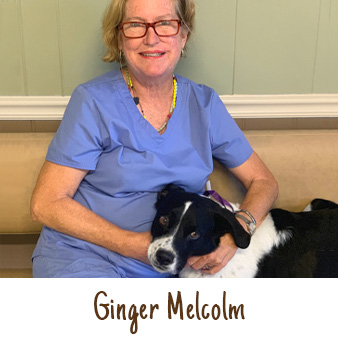 Ginger Melcolm, Kennel Assistant
Ginger is a Kennel Assistant and has been working at Companion Animal Hospital since 2013. Her daily tasks include walking, feeding, and bathing the animals. She's also responsible for opening and closing the hospital. "We give the best patient care ever. The doctors and front office are extremely in touch, as are the techs," says Ginger. "It is gratifying work." At home, Ginger has a nine-year-old cat named Lola. During her free time, she likes to work on home remodeling and spending time with friends and her granddaughter. She also enjoys reading and taking short trips.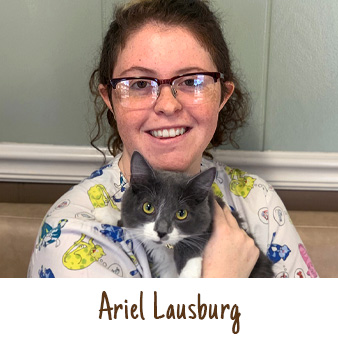 Ariel Lausburg, Kennel Assistant
Ariel is a Kennel Assistant that has been working at Companion Animal Hospital since April 2019. Her job duties include holding animals for appointments, grooming, and bathing animals. One of the best parts about Ariel's job is working alongside our friendly team and seeing all the different pets that come in. At home, Ariel has four cats; Blanca, Alex, Pinochet, and Keanu. She also has two chinchillas named Mochi and Taro. When she's not working or at school, some of her hobbies include art, video games, reading, and baking cookies.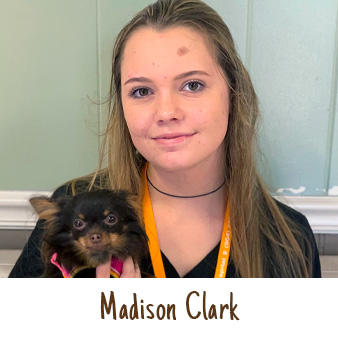 Madison Clark, Kennel Assistant
Bio coming soon!