Veterinarians
TREATING YOUR PETS LIKE FAMILY
Kristen Zalud, DVM and the team at Companion Animal Hospital of North Florida are passionate about providing quality veterinary care to the animals in the Jacksonville community and the surrounding areas including Deerwood and Southside. Learn more about our caring staff below.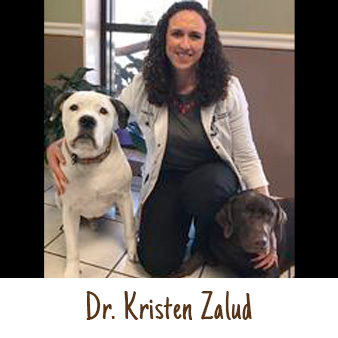 Kristen Zalud, DVM
Dr. Zalud is a Jacksonville native who grew up with a love for animals. She got her start working in the kennel right here at Companion years ago and knew from then on that this was home to her.
Dr. Zalud attended the University of North Florida where she received her Bachelor of Science degree in Biology. She was accepted into veterinary school at Ross University School of Veterinary Medicine on the Caribbean island of St. Kitts. After enjoying 2.5 years of island life and veterinary studies, she returned to the US for her senior year and clinical rotations at Auburn University College of Veterinary Medicine.
Dr. Zalud graduated veterinary school in 2009 and immediately returned to Jacksonville to begin practicing. She worked for the first 3 years practicing medicine, as well as doing relief work here at Companion. In December 2012, Dr. Zalud took over the business from Dr. Chambers. Dr. Zalud enjoys spending her free time with her family and friends as well as her pet Nola.